[Product Release] Introducing 2-Way Document Sharing for Title & Escrow
Don't let outdated paperwork hold you back from delivering an elevated closing experience for your customers.
In an industry that thrives on accuracy, efficiency, and security, CloseSimple has once again revolutionized the title and escrow process with its latest product feature: Two-Way Document Sharing. Designed specifically for decision makers in the title and escrow industry, this innovative feature empowers professionals to send and receive documents securely to and from their title production software during real estate closings.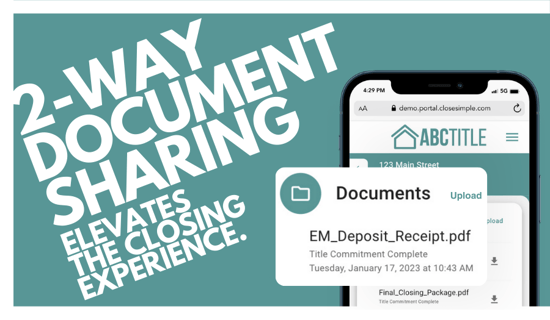 One of the key highlights of our Two-Way Document Sharing is its unwavering commitment to protecting clients' personally identifiable information (PII). By utilizing the Collaboration Portal, title and escrow professionals can now ensure that sensitive documents remain secure throughout the entire process. So gone are the days of relying on unsecure email exchanges that put clients' data at risk.
Moreover, this feature also addresses a common pain point in the industry: the challenge of obtaining documents from consumers securely. With CloseSimple's Two-Way Document Sharing, title and escrow professionals can provide their clients with a safe and convenient way to upload required documents. Whether it's a scanned document or a photo ID taken on a mobile device, clients can effortlessly add it to the portal, which seamlessly integrates with your title production software.
To enhance efficiency, CloseSimple automates the document upload process. As long as the documents are consistently named, they will be automatically selected and uploaded to the Collaboration Portal. This automation saves valuable time, allowing professionals to focus on other critical aspects of the closing process.
Additionally, our Two-Way Document Sharing keeps your internal team in the loop. Instant notifications are triggered as soon as clients upload documents, ensuring that your team can promptly review and process them. This real-time collaboration streamlines communication and eliminates delays, resulting in smoother and more efficient closings.
Mobile-friendly functionality is also at the core of CloseSimple's Two-Way Document Sharing. Clients can conveniently capture images of documents or snap photos of their IDs directly from their mobile devices, seamlessly adding them to the portal. This eliminates the need for tedious scanning or faxing, making the process more user-friendly and accessible for clients on the go.
By providing a secure, automated, and mobile-friendly solution for document sharing, CloseSimple empowers title and escrow companies to embrace technology and increase efficiency. Say goodbye to outdated and insecure document exchanges—welcome a new era of streamlined and secure real estate closings with CloseSimple.