[Product release] Collaborative Portal
Introducing CloseSimple's Collaborative Portal: Simplifying Title and Escrow Transactions.
In the fast-paced world of title and escrow, efficiency and seamless communication are essential. That's why CloseSimple is thrilled to unveil our latest product feature: the Collaborative Portal. Designed specifically for title companies, this innovative tool revolutionizes the way professionals interact with their transactions, providing a streamlined and secure closing experience on any device.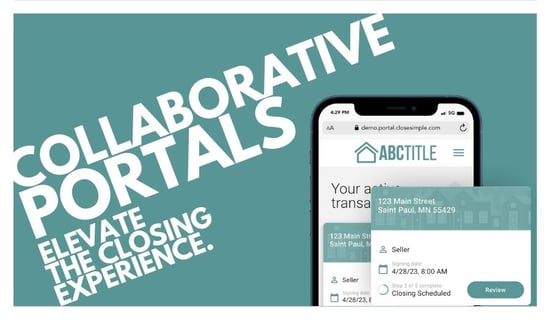 The CloseSimple Secure Collaborative Portal is a web-based, fully white-labeled solution that offers a comprehensive set of features to enhance the closing process for realtors, lenders, attorneys, and consumers alike. With the ability to digitally interact with transactions, all parties involved can access and manage their information conveniently and efficiently.
One of the key highlights of the Collaborative Portal is its versatility. Regardless of the device you prefer, whether it's a desktop, laptop, tablet, or smartphone, you can seamlessly navigate and interact with your transactions. This flexibility empowers professionals to stay connected and productive, even when on the go.
The Portal's extensive feature set includes forms for capturing buyer, seller, and realtor information, facilitating seamless communication and documentation throughout the closing process. Additionally, the two-way document sharing capability ensures secure and efficient exchange of documents between all stakeholders. With eSigning functionality integrated, signing documents digitally has never been easier or more convenient.
CloseSimple's Collaborative Portal seamlessly integrates with industry-leading title production software such as SoftPro, ResWare, and RamQuest. This integration automates updates and tasks, simplifying the process for escrow teams, paralegals, pre-closers, and closers. Manual updates are now of the past while we move towards increased productivity and accuracy.
The CloseSimple Collaborative Portal is the ultimate tool for title and escrow professionals looking to increase efficiencies and leverage technology. With its versatile, web-based design, comprehensive feature set, and seamless integration, the Collaborative Portal simplifies and enhances the closing process, enabling professionals to stay connected and productive on any device. Embrace the power of digital collaboration with CloseSimple and unlock a new level of efficiency in your title and escrow transactions.