Email & Text Notifications During the closing process
Enhancing Communication and Efficiency in the Closing Process with CloseSimple's Email & Text Notifications.
In the fast-paced world of title and escrow, effective communication is paramount to ensure a smooth closing process. At CloseSimple, we understand the importance of keeping all parties involved updated and on the same page. That's why we are thrilled to introduce our latest product feature: Email & Text Notifications. Designed to empower title companies, this feature provides real-time status updates, delivered via email and text, to keep everyone informed throughout the closing process.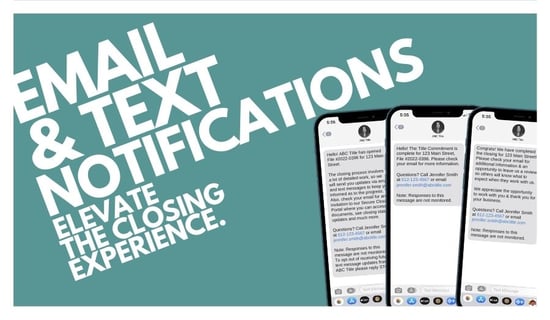 Gone are the days of endless phone calls and emails requesting status updates. With CloseSimple's Email & Text Notifications, you can proactively ensure that all stakeholders have the most up-to-date information, eliminating the need for constant inquiries. This not only streamlines communication but also increases efficiency by reducing interruptions and allowing teams to focus on their core tasks.
Automation is at the core of our Email & Text Notifications feature. Notifications can be configured to be fully automated or semi-automated, depending on the title production software and our customer's specifications. This ensures that the right information is delivered to the right people at the right time, without any manual intervention.
CloseSimple understands that each closing process is unique. That's why our Email & Text Notifications can be customized to align with your specific milestones and requirements. You have the flexibility to define key milestones, and our system will automatically trigger notifications accordingly. Think of it as the Pizza Tracker for Title™ – you and your clients will have full visibility into the progress of the closing, creating transparency and peace of mind.
Branding is essential to showcase your professionalism and establish trust with clients. With CloseSimple, you can rest assured that your emails will be custom-designed to reflect your brand, colors, and overall aesthetic. We believe that every communication should be a reflection of your organization's identity and commitment to excellence.
Integration is seamless with CloseSimple. Our system integrates with your email server, ensuring that all emails come from your domain, enhancing brand consistency and maintaining a professional image.
Texting has become an integral part of modern communication processes, and we've incorporated this feature into CloseSimple's Email & Text Notifications. Just like Amazon updates you on the status of your delivery, you can now provide real-time updates to all parties involved via text messages. This ensures that everyone is instantly informed, even when they're on the go.
CloseSimple's Email & Text Notifications feature revolutionizes communication in the title and escrow industry. With its automated and customizable approach, branded emails, seamless integration, and text messaging capabilities, you can ensure that all parties involved in the closing process stay informed and connected. Embrace the power of efficient communication with CloseSimple and take your title or escrow company to the next level.