secure PORTAL


to see & share everything.
Send and receive information, including documents & forms, to keep closings on track and secure.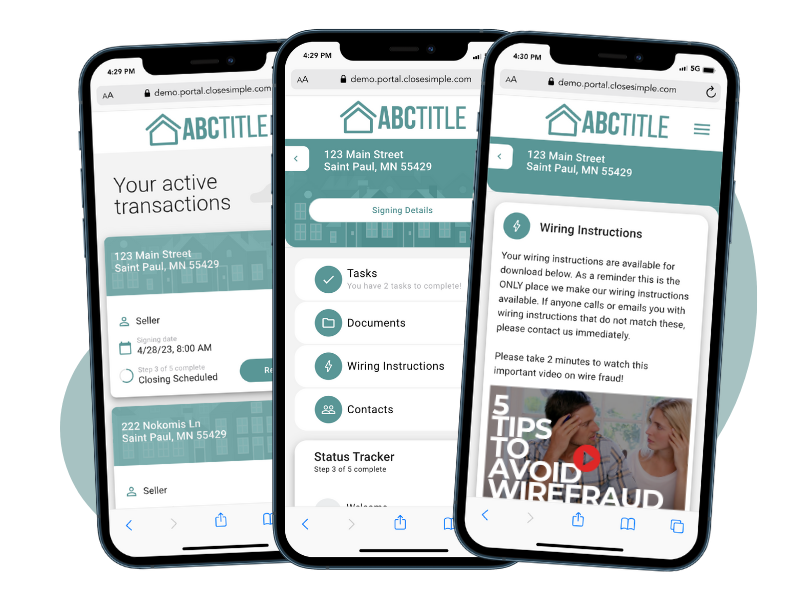 provide a SIMPLIFIED closing experience for real estate agents, lenders, buyers, & sellers.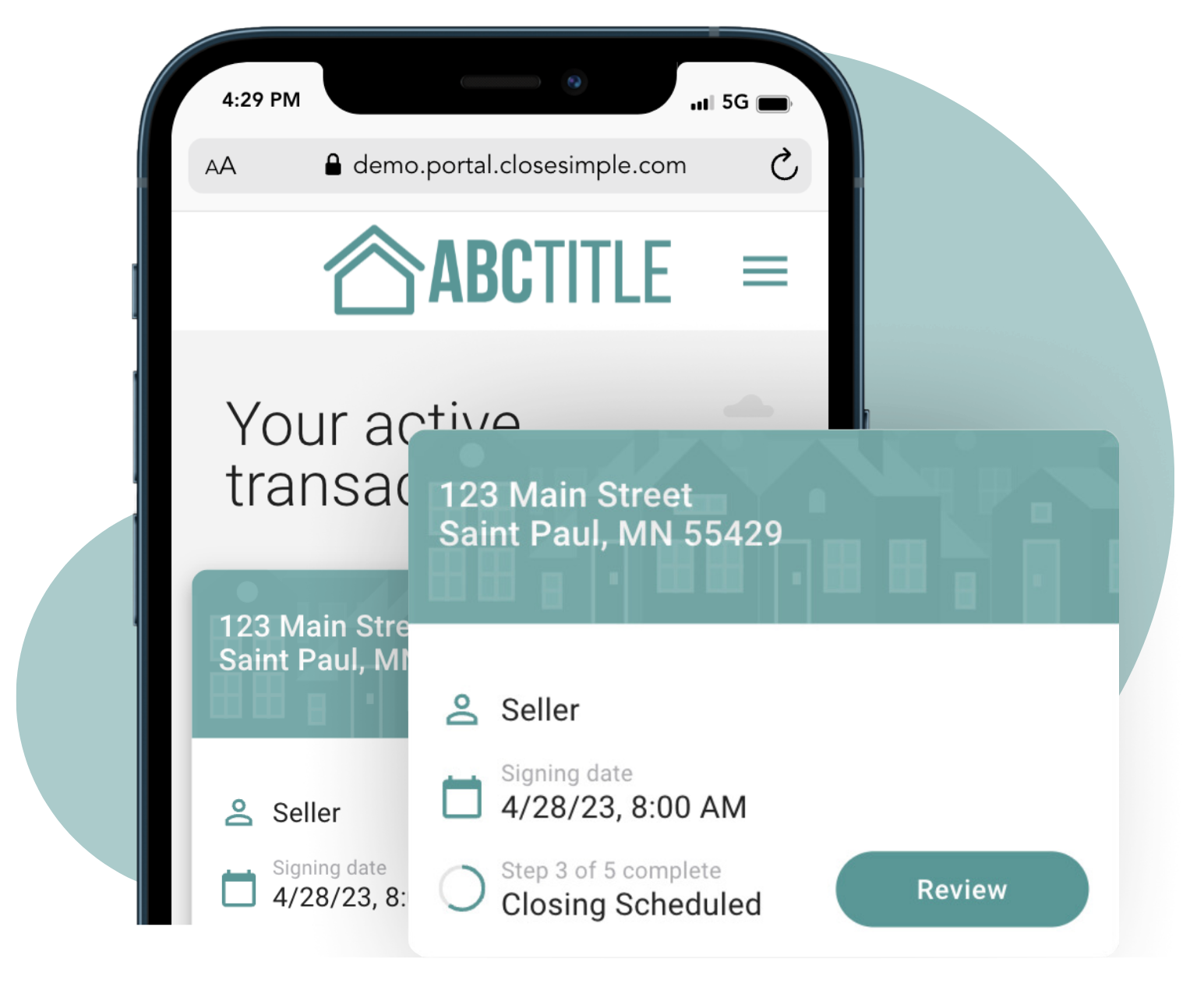 not your typical closing portal
The Collaborative Portal is a mobile-first, web-based, fully white-labeled solution that provides a variety of features that help make closing simple. These include forms for receiving buyer, seller, and Realtor information, two-way document sharing, eSigning, wiring instruction delivery, and more.

Because CloseSimple is integrated with SoftPro, ResWare, and RamQuest, Portal updates are automated through task (or action) completion, meaning delivering this enhanced experience is very simple for escrow teams and paralegals.
2-WAY DOCUMENT
SHARING
CloseSimple Document Sharing is delivered through the Collaboration Portal and allows you to send and receive documents securely to and from your Title Production software.
SECURE WIRING INSTRUCTION
DELIVERY
CloseSimple Wiring Instruction Delivery is available via the Collaboration Portal. At CloseSimple, we believe that while technology is a big part of preventing wire fraud, the best way to combat wire fraud is actually through education, consistency in message, and an uncompromising process.
E-Sign
Anything
CloseSimple eSigning offers an easy way to capture eSigning on forms (such as seller payoff authorizations) and standard documents.

eSigning is available inside the Collaboration Portal, and will be delivered to clients via a task. Tasks also include auto-reminders that will be delivered until documents are signed.
ADDITIONAL STANDARD FEATURES:
Email & Text NOTIFICATIONS
Real-time status updates, delivered via email and text, give you a proactive way to ensure all parties in the transaction are on the same page. They can also dramatically decrease inbound calls and emails requesting status updates.
the pizza
tracker
for title™
Keep the Buyer, Seller, Listing Agent, Selling Agent, Lender, and Mortgage broker informed throughout the closing process with your visual closing milestones.
Implementations include up to 5 or 6 milestone steps, which are 100% customized to your company and closing process.
integrated & AUTOMATED
CloseSimple Title Production Software Integrations are industry-leading, automation-driven solutions to ensure that CloseSimple is simple to use for your internal escrow team, paralegals, pre-closers, and closers. CloseSimple is integrated with SoftPro, ResWare, RamQuest, and GreenFolders. Some specifics for each can be found below:
"Realtors can Open up their Portal, they can see all their closings with waco ...

they can take that guesswork out."
EMMA BIRDWELL
WACO Title