If you're a title or escrow agent, have you ever caught yourself thinking any of these common phrases?
"I wish this real estate agent would stop bugging me and just let me do my job?"
"Didn't I already communicate that to them?"
"How many times do I have to answer that?"
"Seriously … how many more questions can they have about this?"
Or have real estate agents ever asked you these questions?
"Did you get the file?
"When will I hear back from you next?"
"Any updates for my client?" (while you know it's really for them!)
If you answered yes to any of the above questions, then check out this free guide, Breakthrough: 5 Steps to Optimize Communication & Reduce Questions from Real Estate Agents.
In this guide, I'll show you how to get real estate agents off your back and out of your inbox, so you can focus on actually closing files. When title and escrow officers, processors, and closers are able to focus on their jobs, real estate agents can focus on theirs too!
As a former title agent who closed an average of 80-100 files per month, I know how draining it can be to constantly hear the same questions from your real estate partners throughout the closing process. That's why I've outlined 5 things that you can do right now to optimize your communication with real estate agents and clients.
Download your free copy of the guide today.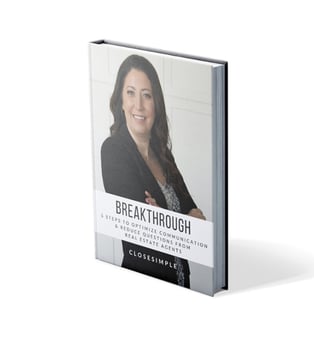 Grab Your Free Guide Today.
5 step by step guide to optimize communication & reduce questions from real estate agents.