[Product Release] Mobile-Friendly Forms for Title & Escrow
Don't let outdated paperwork hold you back from delivering an elevated closing experience for your customers.
In the fast-paced world of title and escrow, ensuring a smooth and efficient closing experience is paramount. At CloseSimple, we understand the importance of streamlining the process and delivering exceptional service to your clients. That's why we're thrilled to introduce our latest feature, "Mobile-Friendly Forms," designed to revolutionize the way title and escrow companies operate.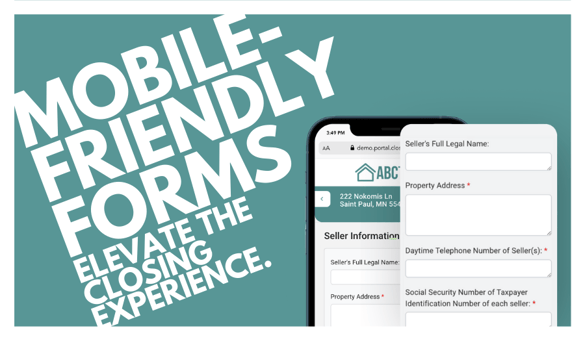 Our Mobile-Friendly Forms have been engineered with a mobile-first approach, putting convenience and flexibility at the forefront. Gone are the days of cumbersome paperwork and delays caused by inaccessible forms. With our new feature, buyers, sellers, and real estate agents can easily complete essential documentation on their smartphones or tablets, anytime and anywhere. This mobile optimization not only accelerates the closing process but also enhances the overall experience for all parties involved.
But there's more to our Mobile-Friendly Forms than just accessibility. We've packed them with a host of powerful features to streamline the entire workflow. Automated reminders are sent every 24 hours for 10 days, ensuring that all parties stay on track and complete their forms in a timely manner. This eliminates the need for constant follow-ups and reduces the risk of missed deadlines. Additionally, our auto-completion by role feature allows for seamless data transfer between sellers, saving time and eliminating redundancy.
"By automating the reminders, CloseSimple should actually make things easier for our customers, not add more work," says Nate Niemi, head of product development. "The last thing we want our customers doing is redundant tasks. That is what an elevated experience looks like for the teams using this feature."
We understand that every transaction is unique, and compliance requirements can vary based on factors such as state, region, or brand, so CloseSimple caters to these variations by providing easy configuration options. Our intuitive Collaboration Portal allows you to effortlessly customize forms according to your specific needs. With drag and drop functionality, building web forms for data collection and obtaining signatures becomes a breeze.
CloseSimple's Mobile-Friendly Forms represent a significant leap forward in the title and escrow industry. By embracing digital technology and prioritizing user experience, we are setting a new standard for efficiency and customer satisfaction.
Ready to take your closing experience to the next level? Schedule a demo today to explore how CloseSimple's Mobile-Friendly Forms can transform your title and escrow operations. Our team of experts is eager to guide you through our solution, showcasing how it optimizes workflows, enhances efficiency, and leaves a lasting positive impression on your clients.
So again, don't let outdated paperwork hold you back. Embrace the future of title and escrow with CloseSimple's Mobile-Friendly Forms. Together, let's reshape the closing experience into something extraordinary.
If that sounds interesting, grab a time on our calendar so we can show you a demo of our Collaborative Portal and Mobile-Friendly Forms: