When AppleTower Title & Escrow in Weston, Florida, started getting a flood of five-star reviews, they knew exactly why.
It wasn't because they'd improved their customer service. (That would hardly be possible—they were already known for great service.) What they had improved was their client communications, with a software called CloseSimple that integrates with their existing title production software. CloseSimple keeps customers informed through automated texts and emails—and these updates are delighting AppleTower's customers.
"Our Google reviews went off the charts," says Danny Manzano, managing partner of AppleTower, about adding CloseSimple to their process, including an automated prompt inviting customers to provide an online review. "I mean, really, it just bombarded us."
"The amount of business this drives for our company is insane," he says. When real estate agents or customers are checking out AppleTower, the reviews seal the deal. "Once they look at our competitors that have 10, 20, 30 reviews versus us having over 200 five-star reviews, I mean, it's no doubt who they're going to go with."
"Once we started putting the Facebook and the Google review link in CloseSimple, our Google reviews went off the charts."
~ Danny Manzano
Managing Partner, AppleTower Escrow & Title
What is CloseSimple—and How Can it Produce Results Like That?
Buying a home is the largest financial transaction most people will ever make and the process can feel stressful. Communication is critical.
So, instead of the AppleTower team having to manually create texts and emails to keep clients updated, CloseSimple automatically sends a message for every step of the process, letting customers know when information is needed, an action is pending, or a milestone has been reached.
"The more information you give out to the customers, the less stressed they're going to be," says Manzano. CloseSimple has perfected this process for AppleTower. "We don't miss anything," he says. "We can click a button as 'completed' and everyone gets notified that that milestone has been completed."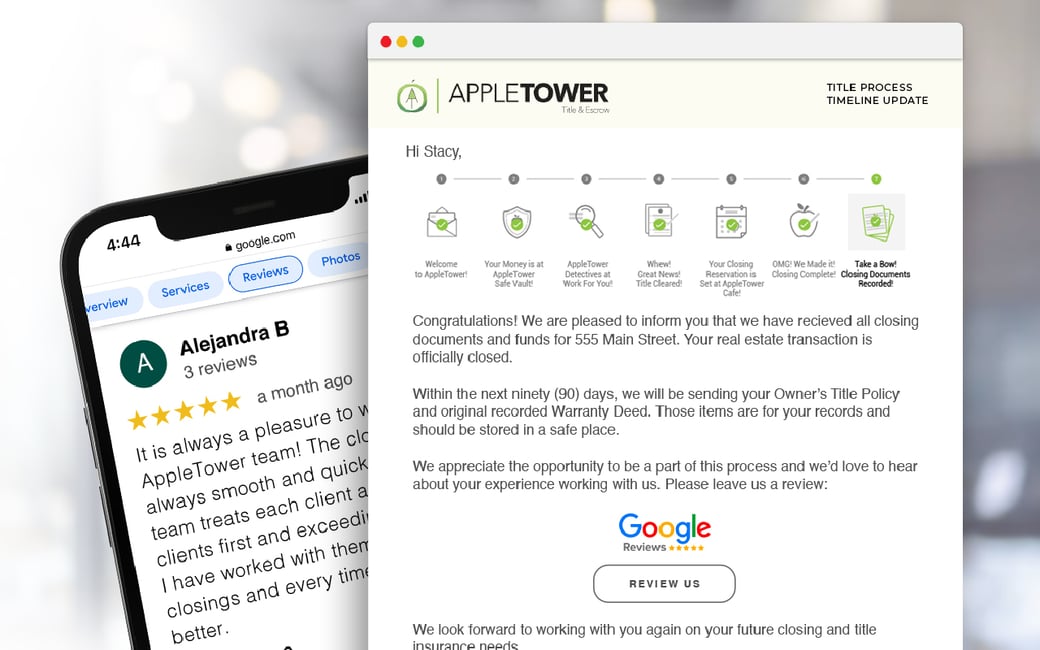 The CloseSimple integration automatically sends messages when an action is pending or a milestone has been reached. The texts and emails are fully customized to AppleTower's brand, so customers know exactly who it's from.
"When it comes to communication that goes out to the end customers, it's so important that it's done right and executed to perfection."
~ Danny Manzano
They Make us Look Good
AppleTower is known for its customer care and its family roots. The company's name is a combination of Manzano's last name, which means apple in Spanish, and his wife's last name, Latorre, which means tower.
"We started as a family and we're going to grow as a family," says Manzano. "That has been our mission, and that's part of our values, 100%."
So it's no surprise AppleTower's branding is critical to the team. Manzano says all the communications sent through the CloseSimple system look like they're coming directly from AppleTower. Every icon, logo, and color is branded to their exact specifications.
"The fact that I can provide information to clients through CloseSimple—in a graphical interface that's very simple to understand and very simple to see—I think that helps us a lot," says Manzano. "It looks great on a phone, it looks great on a tablet, it looks great on a computer. It's amazing."
"The amount of business this drives for our company is insane."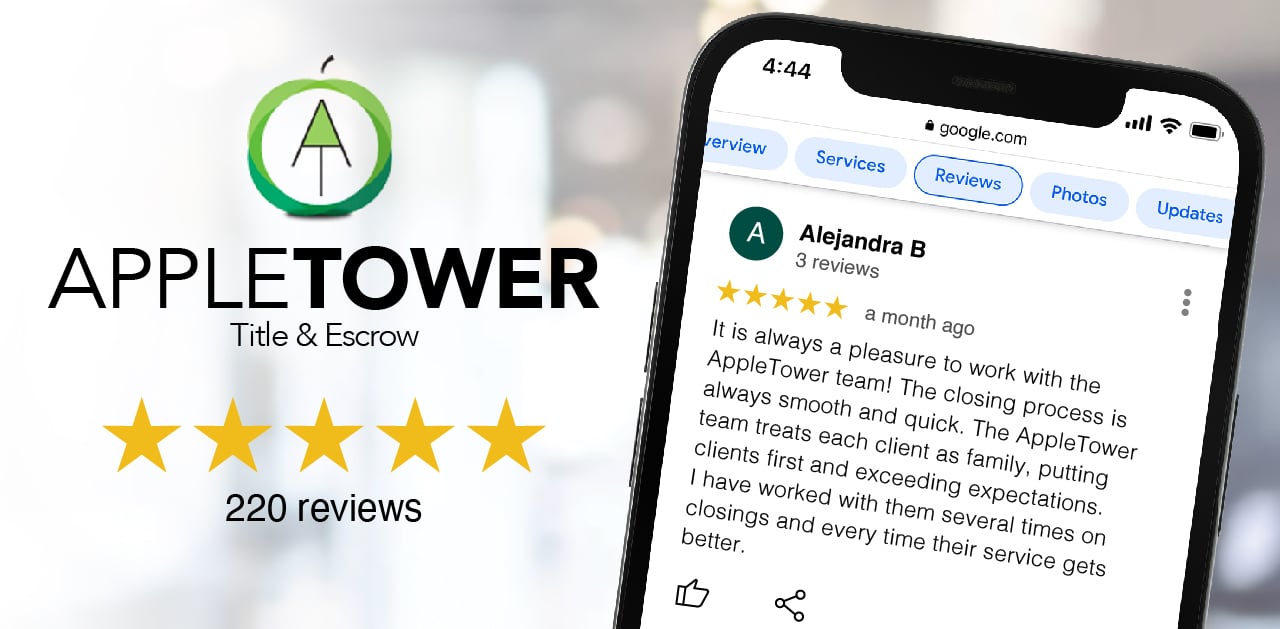 When real estate agents, home buyers, or referred customers check out AppleTower online, the hundreds of Google reviews provide complete confidence in the AppleTower team—and seal the deal.
Customers Notice
Manzano and his team work hard to help customers feel comfortable and to answer their questions before they even have to ask. "CloseSimple has helped us in that immensely—as far as being able to provide that proactive communication," he says.
If AppleTower's Google reviews are any indication, customers appreciate it.
"CloseSimple has been a great engine for Google reviews," says Manzano. "Anyone that's thinking about getting the service should not think about it anymore. If you want to be different, make sure you go with CloseSimple. They're going to take your business to the next level."
Is your Title team ready to build business and be the hero to your customers?
Learn how CloseSimple integrates with your Title production software.