Not many people realize how stressful it is to work in the Title industry. Title pros do.
Ali Peterson from Minnesota spent 13 years working as a Title professional. She'd spend long hours at her office during the day, only to continue working at the kitchen counter while she made dinner at home, and then in her bed after she tucked in the kids. There were endless emails to send and tasks to complete.
"My husband would insist I close the laptop and enjoy my evening," she says, "but if you're in the Title and Escrow industry, you know as well as I do, I couldn't do that."
The stakes are high
For Title professionals, the stakes of dropping a ball are high, and they take their role seriously.
"People are waiting for their keys," says Camille White, president of N Title in Texas. "They're sitting with a moving truck, and they can't move in until they get that call or email from us. So if we're delaying the process, that's a problem."
And if a closing is delayed, all fingers will point to the Title company.
This rarely happens though, and there's one reason why: Because Title professionals like Ali and Camille work tirelessly behind the scenes to make sure it doesn't.
Stress either way
But the reality is, even when everything goes smoothly, the Title process is still filled with stress. "You're in the middle between the agents, the buyer, and the seller, kind of having to calm their emotions down," says Kati Cumberland, who works as an operations manager for TitleGroup of Tennessee.
"There's a lot of emotions and finances involved."

Kati Cumberland
Title Group of Tennessee


As a result, Title pros dedicate a large portion of their days to simply keeping everyone informed—because when buyers, lenders, and real estate agents are less stressed, so are they.
But all of this diligence is incredibly time consuming.
The game changer
With seven offices across Texas and almost 3,000 closings a year, Camille's team at N Title was spending countless hours a week sending updates, so when she saw CloseSimple in action, she couldn't wait to try it. She believed its visual CloseSimple progress tracker and automated emails and text messages could reduce stress for her team, and also for her customers.
She was right.
CloseSimple has taken hours of work off her team's shoulders—and, as a bonus, customers are less stressed, which leaves her team less stressed as well. "Now, from the get-go, our customers know what's coming next," she says. "It gives them a sense of calm and understanding."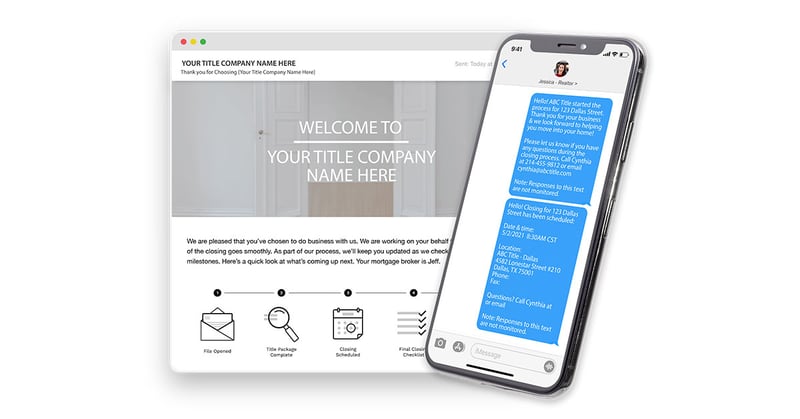 "CloseSimple keeps us on track when we've got 9000 things going on."
Camille White
President, N Title, Inc.
"Because it's integrated into RamQuest, as soon as we finish funding a loan and we click a button to print our checks, an automated email goes out," says Camille. "It helps us make sure things aren't falling through the cracks."
Being the hero
Traditionally, the hard work of Title pros has mostly been invisible—until something goes wrong. With CloseSimple, these people are standing out as the pros they are: handling the details and keeping customers informed. Based on a sampling of N Title's Google reviews, customers are noticing:
"This was, by far, the best service and process we've had."
"The closing process was easy and relaxed."
"N Title made the process super easy."
"We're giving our customers the information they need before they even know to ask for it," says Camille. And this makes her team look—and feel—amazing, with a lot less busywork.


Want less stress and more credit for your hard work? See what CloseSimple can do.
Learn how CloseSimple integrates with your Title production software.